R.I.P. Jeff Anderson
September 8, 1964 - October 8, 2016
....................
Enter my sorrow, breath after breath.

Life is a vision, blessed only by death....
On October 8th, 2016, Blessed Death guitarist Jeff Anderson passed away
after a long battle with cancer. As bandmates we collectively feel that the
world lost an extremely talented musician and an incredible friend. We
mourn the loss of Jeff's passing, but celebrate every moment we had to
spend together on this earth, doing what we all had an incredible passion
to do…share our thoughts of reality and pain with all around us through
our music, in the spirit of metal….
….Blessed is death to a life on this earth,

Blessed is death, unknown at birth,

Blessed is death, you fear that it's true,

Blessed is death, to all of you.
.............
............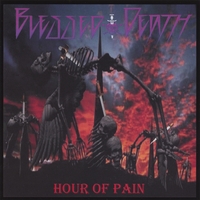 On Sale NOW! BLESSED DEATH III "HOUR OF PAIN"
The Official BLESSED DEATH Website